The 12th edition of the HaBaWaBa International Festival was not the only great success of the HaBaWaBa movement in 2019. Along the summer, in fact, a plenty of HaBaWaBa events took place, allowing over 3,000 kids to play "the game of the ball in the water". 
Last June, from 23rd to 30th, Bella Italia & EFA Village in Lignano Sabbiadoro (Italy) hosted the 4th edition of HaBaWaBa PLUS U13, an event constantly growing in recent years which this summer was joined by 63 teams (51 in the boys' tournament, 12 in the girls' one) coming from 11 different countries (France, Greece, Montenegro, Poland, Monaco, Slovakia, Slovenia, United States, Switzerland, Hungary and Italy) for a total of 911 young athletes. Adding waterpolo coaches (111), fans (801), guests (56) and staff members (132), HaBaWaBa PLUS U11 involved 2,011 people: in 6 days 300 games were and 5,020 goals were scored.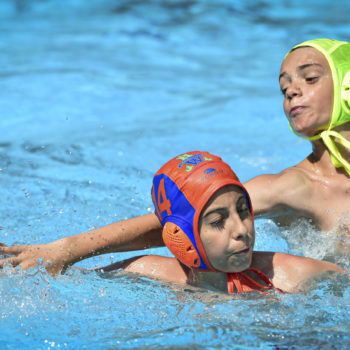 In Canada, Greece and Spain other stages of HaBaWaBa International Circuit took place, they were organized by local companies or associations, with the support of Waterpolo Development. In June, from 26th to 30th, Montreal hosted the 5th edition of HaBaWaBa North America: 15 teams (8 in the 12U category and 7 in the 14U category) from Canada and the United States participated in the event organized by DJ Global Wave at the pool of the Parc Jean Drapeau, for a total of 135 little athletes and more than 400 people. 
On July, From 4th to 7th, the pool of the Glyfada club, nearby Athens, held the 4th edition of HaBaWaBa Greece, an event organized by Delta I.S.O.: 32 teams and 400 young athletes from three nations (Greece, Cyprus and Egypt) competed in a magnificent facility, creating two exciting tournaments (9U and 11U). 
This summer also had the 2nd edition of HaBaWaBa Spain (July), competition that left Barcelona to be hosted by Club Natació Reus Ploms in Reus, a town in the province of Tarragona. The event, organized by the Real Federacion Española de Natacion and BIWPA, was attended by 30 teams from Belgium, France, Italy, Malta, Portugal, Romania and Spain for a total of 340 athletes, split into the 10U and 12U tournaments.
Counting the 1,485 small waterpolo players of the HaBaWaBa International Festival in Lignano Sabbiadoro, therefore, during the summer of 2019 the HaBaWaBa movement allowed 3,171 kids to live the experience of their lives and to increase their love for waterpolo. 
However, other innovations are coming: on September, from 19th to 22nd, in the Belarusian town Brest will take place the 1st edition of HaBaWaBa Belarus, the brand new stage of HaBaWaBa International Circuit: the competition will be developed into two tournaments, 11U and 13U.