Waterpolo Development
chose a very special partner to bring
HaBaWaBa
to
South America
. It's
ABDA
, the Bauru club that uses waterpolo and sport in order to improve the lives of children in need. Founded in 2010 by engineer and philanthropist
Claudio Zopone
, ABDA has been participating for years with its teams in HaBaWaBa International Festival in Lignano Sabbiadoro. In December 2020 the Brazilian club will organize the 1
st
edition of
HaBaWaBa Brazil
: we talked about that with mr. Zopone.
Mr. Zopone, ABDA is not just a sports club.
No, it 's a social project that includes different areas. We use sport and mainly waterpolo to include kids into our society: 99% of our athletes come from families living on less than 300 euros per month. People who really need help. Our work is based on three fundamental points: sport, education and commitment. Kids feel accepted when they are treated with love, respect and education.
How many children does ABDA work with?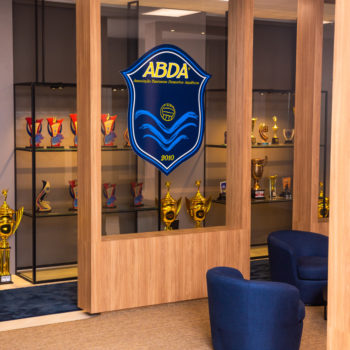 We have 6,300 kids playing waterpolo, swimming, athletics, swimming and athletics for disabled and we also have our philharmonic orchestra. We also set up a scholarship to support regular school, studying technology and English. Our kids are taken care from every point of view: we have nutritionists, physiotherapists, a whole medical team, psychologists. We have everything they need. Most of the kids have delicate situations, most of them have not mother or father, or their parents are in prison. Due to our work, crime rate at age from 14 to 18 years old has been reduced by 50% in Bauru, which is now one of the safest cities in Brazil. We worked in areas where crime rate was very high and the police didn't use to enter: we can say that ABDA entered before the police that areas and with no connection with the leaders of local criminal associations. We have strong cooperation with the police themselves and the whole community. We have a lot of kids, but we treat them individually, with specific programs for their personalities. And they are our pride: some of them have now become civil engineers. In short, we don't just deal with sports, even if our sporting results are excellent: our waterpolo teams are at the top of the state.
Why did you choose waterpolo and not another team sport?
Because it's a very tough sport, tough as life. Due to waterpolo kids learn to be masters of their own lives: in this sport if you don't work, if you don't have discipline, you can't play, you can't get results. In life it happens the same, that's why we love waterpolo. When kids play sport they are happy, they understand that they can leave violence out of their lives. Also, at ABDA we make no distinctions of race, creed or sex: the only difference is between those who work hard and those who don't.
Why do you want to organize an HaBaWaBa event in Brazil?
First of all, we aim to show our guys that nothing is impossible, that everything can be achieved if you commit yourself. Our children love HaBaWaBa: the first time we participated in HaBaWaBa International Festival only 11 kids wanted to come to Italy. They were a bit afraid to leave home, to travel to Europe. Then HaBaWaBa hooked everyone, in 2019 we had to choose among 200 children. And participating in the Festival has become a real pride for the whole city of Bauru. Now we want to show people that ABDA is part of this event here in Brazil too, to make our children proud and to show them that they are equal to other kids of the world and that HaBaWaBa is also possible in Bauru.
How many teams and countries do you want to involve?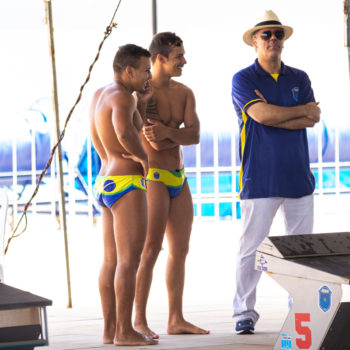 All South American countries: some teams from Colombia, Venezuela, Chile, Argentina, Uguruay and Peru have already been in Bauru for training. Teams from at least 5 of these countries will participate in HaBaWaBa Brazil, others will be Brazilian: we will have at least 20 teams.
The event will take place in the ABDA sports center.
In Bauru we have 5 sport centers with pools, the largest is the ABDA sports center with 50 meters pools, but if we'll have more teams we'll use also one of the 25 meters pools. Up to 2,500 spectators can attend the main pool. The participating teams will be accomodate in the best hotels in Bauru.
Is HaBaWaBa Brazil the only new sports project you've been involved in recently?
We recently renovated the Julio Delamare Aquatic Park, which is part of the Maracanà complex: it's the largest sports facility in Rio de Janeiro and one of the largest in South America, and it will be used by 1,200 children. 93% of our projects are personally funded by me and my brother Junior, so doing more it's not easy. However, we think we can do more: we owe it to our kids.
[gallery link="file" columns="1" size="large" ids="32699,32701"]