HaBaWaBa International Festival 2019
, it's time for some numbers. We're using these data to tell the enormity of this event, the biggest and most spectacular in the world of youth waterpolo. An event that is possible due to
Waterpolo Development
commitment, but also to the help of clubs and coaches, who have fully understood the HaBaWaBa spirit, allowing kids - the Festival is all about them - to live an experience that they will remember for life in the best way possible.
[caption id="attachment_30454" align="alignright" width="350"]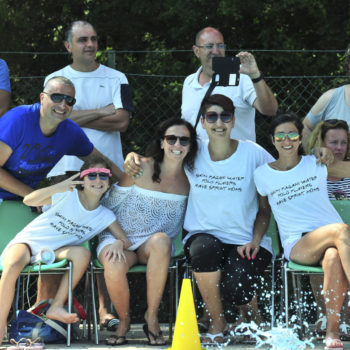 Almost 1.500 parents and fans came to Lignano for the HaBaWaBa International Festival 2019[/caption] As the official report by
Delta I.S.O.
- the company that manages the accreditation system of HaBaWaBa International Festival -, the
little players
of the 12
th
edition were
1,485
, from
10 different countries
. Along with them, 242 coaches and managers and 1,441 family members and fans arrived at Bella Italia & EFA Village. You have to add these numbers to those of the organizers - an army of 237 people including WPD members, referees, officials, volunteers, medicals and media - and 12 VIP guests. Overall, therefore, in one week the HaBaWaBa International Festival involved
3,417 people
. Once again, this was an incredible number for a kids' waterpolo event. As for the two tournaments, in 6 days of competition the
134 teams
(112 in U11 category and 22 in U9) played a total of
696 games
, scoring such as
8,448 goals
.
[caption id="attachment_30894" align="alignleft" width="350"]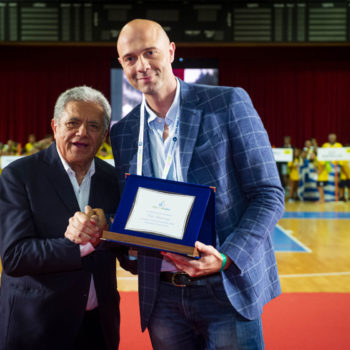 WPD President Lucio Pisani and HaBaWaBa Testimonial 2019 Fabio Bencivenga[/caption] These numbers can only make Waterpolo Development proud, and we are equally proud of the success of the new HaBaWaBa rules. "Kids immediately adapted to them and the rules change has given the outcome we wished: with the new rules, who moves more in the pool wins the game, which has produced a more dynamic and less physical waterpolo", WPD president Lucio

Pisani

says. "The new HaBaWaBa rules - Pisani continues - have also freed the kids' imagination,

they have invented new ways to dribble or defend

. In addition, the game has become less physically hard, allowing the smaller players to have fun and mitigating the fear of the parents: you know, some of them are afraid that waterpolo is a too dangerous sport for their children. Instead

this is a waterpolo 'for everybody'

, which can therefore attract more kids and broaden the base of waterpolo players". As for the application of the rules, of course, there is still work to be done. "Obviously there was some problem of rules interpretation, we are only at their first implementation, but we think that our referees have done a great job and we believe we are on the right track.

FINA aims to make waterpolo faster and 'cleaner' in the future

, with these rules today's kids will already be prepared".

     

Two days after the end of