The first edition of HaBaWaBa Belarus was a great success: the competition brought togheter in the town of Brest 20 teams and 280 little players coming from 7 different countries (Azerbaijan, Latvia, Lithuania, Poland, Russia, Ukraine and Belarus), showing that also Eastern Europe felt in love with HaBaWaBa. We have talked with Yuri Kucheruk, director of the Brest Regional Olympic Reserve Center for Water Sports and member of the organizing committee of the event.
Mr. Kucheruk, why have you brought HaBaWaBa to Belarus?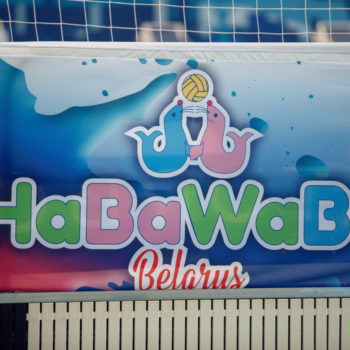 At our Centre we have excellent sports and training facilities, we hold a lot of activities for children of all ages in swimming, synchronized swimming, diving. HaBaWaBa is a very diverse event, a recognizable brand not only in Europe but also across the world. There was nothing of this kind before in the Republic of Belarus in waterpolo, so we decided to try and hold HaBaWaBa Belarus in Brest.
What makes HaBaWaBa so unique in your opinion?
It is unique because the sports component is not the crucial one. Sport is a serious work, psychological and physical activity. Children need to prolong their childhood and HaBaWaBa Belarus is just such an event.
How have Brest welcomed HaBaWaBa Belarus and the team from other countries? The event took place during the celebration for the 1.000 years birthday of the town, right? 
On September 6-8, the celebration of the Millennium of Brest was held with the participation of the President of the Republic of Belarus, Alexander Lukashenko. HaBaWaBa Belarus was held within this event. A huge cultural program was organized for the participating teams: excursions to Brest fortress and Belovezhskaya Pushcha (Natural forest reserve), pop live music, active games, animation and many more.
At HaBaWaBa Belarus you had also teams from countries which have difficult relations each other. How important is that for sports and HaBaWaBa principles?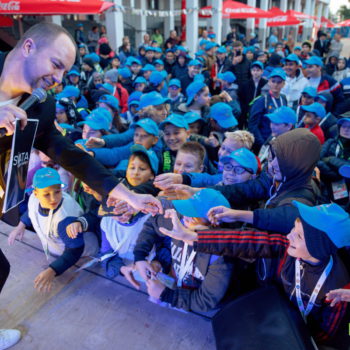 Sport should be beyond politics. And activities with children – even more so. For many years so far, we have been holding various tournaments, festivals, competitions in water sports for children and we never had any issues with national relations among children. HaBaWaBa Belarus is an event that contributes to the strengthening of relations between Russia and Ukraine.
Are you satisfied about the 1st edition? Do you have already plans for the next one? 
We are very happy with the first event HaBaWaBa Belarus due to several reasons. We got enormous experience that will be used in future; for the first time the participants were served buffet style meals; we have improved the material and technical facilities including with the support of sponsors and partners. We will now analyze and assess the results of HaBaWaBa Belarus and inform you about our future plans in the nearest time.